Skilled Veterinarians Treat Pain with Pet Rehabilitation, Meds, & Laser Therapy
At Parrett Veterinary Clinic, pet pain management is of the utmost importance. Our goal is to improve and maintain the highest quality of life in our patients.
Temporary discomfort from vaccinations, a post-operative patient needing rehabilitation, an aging pet experiencing arthritic pain, or a terminally ill patient requiring comfort — all are given careful attention and consideration by our veterinarians and staff.
---
Treating Pet Pain
There are many tools we may recommend when developing a tailored pain management regimen to fit your pet's needs.
Non-steroidal anti-inflammatory drugs (NSAIDs) are used to help manage chronic pain and inflammation. Chondroprotectants are medications administered via injection, used to slow the degenerative process of arthritis, help lubricate joints, and aid in tissue repair. Nutraceuticals, containing glucosamine and chondroitin, Omega 3 fatty acids, and antioxidants may be used in improving joint health and comfort.
Special prescription diets provided by our nutritional partner of choice, Hill's® Pet Nutrition, offer foods specifically for mobility and joint health.
---
Relieving Pet Pain From Surgery
All surgical patients receive pre- and post-operative pain medication injections and are discharged with oral pain medications. Our laser surgery technology results in less patient trauma, bleeding, infection, pain, and inflammation, with a quicker return to normal activities.
---
Laser Therapy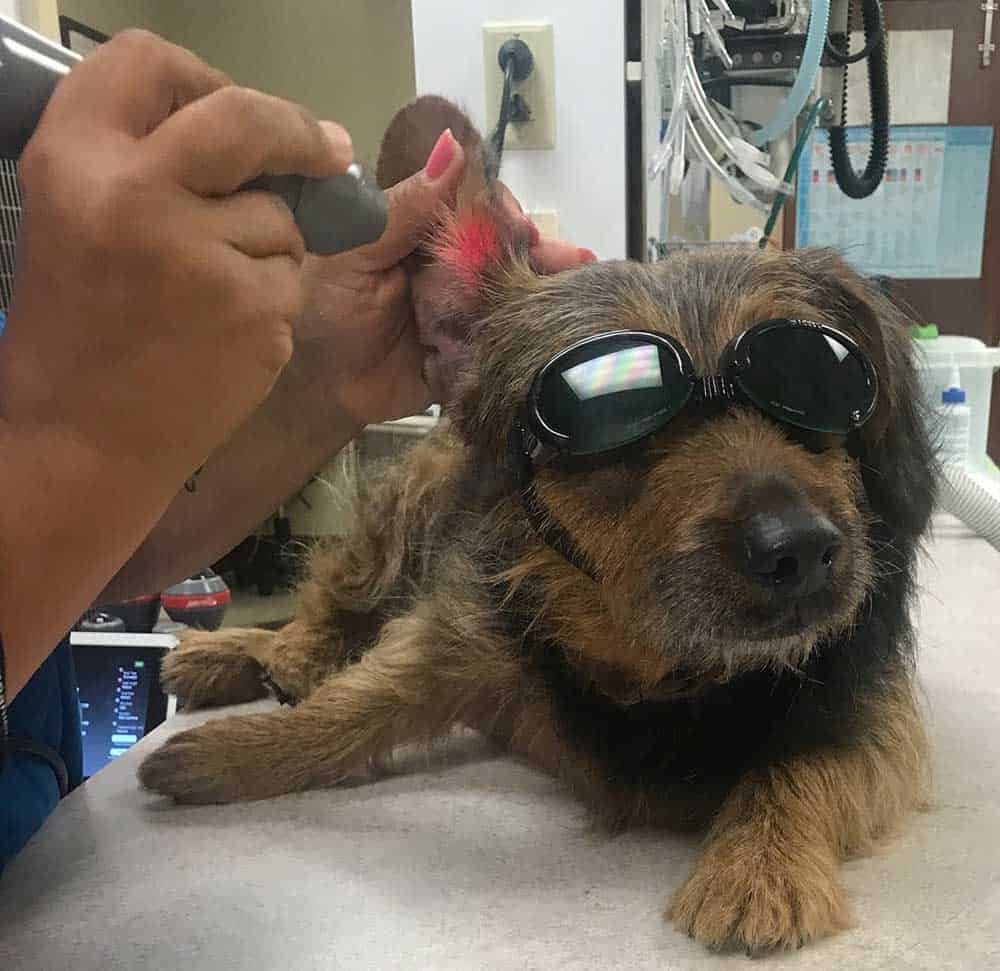 At Parrett Veterinary Clinic, we are pleased to offer companion laser therapy. All surgical patients receive post-operative laser therapy as part of our pain management protocol, but this wonderful technology has many applications. The deep penetration of the laser light causes a release of natural endorphins and stimulates injured cells to heal more rapidly, allowing great relief of pain.
These therapy sessions can often be performed as outpatient services. Pet owners may be present during the session, with the precaution of wearing our protective glasses. Companion laser therapy is used in pain relief, wound healing, arthritis management, post-operative pain management, dermatological conditions, lick granulomas, periodontal disease, ear infections, and more.
---
Pet Rehabilitation
Diet, exercise, weight control, and physical rehabilitation all play an important role in pet pain management. We offer counsel to pet owners struggling with these issues.
Physical rehabilitation techniques can aid in pain relief, bone healing, and to promote cartilage, tendon, and ligament health. Techniques include cold and heat applications, massage, stretching, and range-of-motion exercises.
Overweight or obese pets benefit from specific tools designed to achieve weight loss goals. Tools may include calorie reduction, monthly weight checks, prescription diet, exercise regimens, and use of appetite suppressants.
The entire staff of Parrett Veterinary Clinic is devoted to the highest quality of service and care for our clients and patients. We understand that pain management is a central issue of concern to you, your family, and your pet. Applying our knowledge, expertise, and advanced technology, we work with you to provide your pet with the highest quality of life and support you through the process.