Our Veterinarians
Doug Hoeffler, DVM/Owner

Veterinarian
Dr. Hoeffler has worked at Parrett Veterinary Clinic since July 1984 and as owner since May 1988. He earned his bachelor of science and DVM from Michigan State University, 1976–1984.
For nearly three decades, Dr. Hoeffler has worked to make an outstanding veterinary facility even better. He has remained true to Dr. Leslie Parrett's original objective of providing outstanding personal veterinary care to each and every patient, while maintaining a reasonable fee structure. In addition, he is committed to giving employees of Parrett Veterinary Clinic the opportunity to flourish in a modern, nurturing, and exciting practice.
Dr. Hoeffler lives with his wife and three children. His pets include a beagle named Leah and two cats, Winnie and Shaka/Simba (who lives mostly at the clinic these days after falling through their basement's suspended ceiling—three times!). In his free time he likes to read, fish, golf, do yard work, and share time with his family.
Dr. Hoeffler tells us:
"For me, being a veterinarian is not a job or profession but a passion. In the 28 years of being a veterinarian, it has never felt like work, but rather a blessing to be doing something I love alongside people who share that passion."
Lisa Fry, DVM

Veterinarian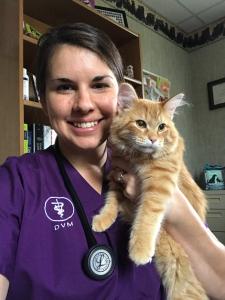 Dr.Fry is a 2014 graduate of Purdue University College of Veterinary Medicine. Her hometown is Lowell, IN. She holds a Bachelors degree in Biology from Indiana University Purdue University in Indianapolis. Her veterinary areas of interest include dentistry, soft tissue surgery, ophthalmology (eyes), neurology and internal medicine.
Prior to veterinary school, Dr. Fry enjoyed working at the Indianapolis Zoo as a keeper for forest animals. Her favorite creatures to care for included the Amur tigers and the Kodiak bears. She was a veterinary assistant for multiple years and volunteered at a wildlife rehabilitation center.
At home, Dr. Fry and her husband Scott, have an adorable cat named Monk (the best cat in the world!) and a crazy handsome Weimaraner dog named Jep. The Frys enjoy traveling, the outdoors, and "fixer upper" projects.