Our Staff: Office & Reception
Mercedes Bastardo

Receptionist
Mercedes started in September of 2021, she loves spending time at home relaxing with her boyfriend and their 3 dogs (Cash, Lily, and Jovi). In her free time she likes to go camping, hiking and kayaking.
Marcy

Receptionist
Marcy joined the reception team in June of 2019. She enjoys working on behind the scene tasks and solving problems such as the online store.
Outside of the clinic Marcy plays the pipe organ at church and is active with Montessori education. Her home is shared with two cats, Coal and Evie Grace.
Melissa

Receptionist
Melissa starting working at Parrett Vet in October 2015...on her birthday! She came to us with experience in the equine field. Melissa has been a great addition as she is hardworking and strives for precision.
Outside of work, Melissa is involved in the Martial Arts and enjoys hanging out with friends. She attends a weekly class and has earned her Black Belt!
Amber

Receptionist
Amber started working at the Clinic in December of 2014. She started as kennel attendant and now works as receptionist. She loves spending time with her 3 kids and husband along with their 5 dogs and 5 cats. On her free time she enjoys hiking, kayaking and shopping.
Our Staff: Veterinary Services
Jessica

Director of Surgery
Jessica has been with us since May of 2004 and is our very efficient director of surgery. Her commitment to maintaining a safe surgical environment has been invaluable to our patients and staff.
Jessica's pet family includes two lazy cats and four loyal, playful dogs: Shelby, a Rott/Lab; Roo, a Chihuahua; Pupdog, a Lab; and Cleo, a Pitbull. In her free time, she enjoys canoeing, walking her dogs, and cooking.
Camrin

Receptionist/Veterinary Assistant
Camrin has been with us since October 2012. She started as a kennel attendant and in 2015 has made a transition to Receptionist / Veterinary Assistant.
In her free time, she is an avid barrel racer. She competes in many competitions and does very well! In addition to her 8 horses, Camrin has 3 dogs: Caysa, Chew, and Creo.
Sabrina

Surgical Assistant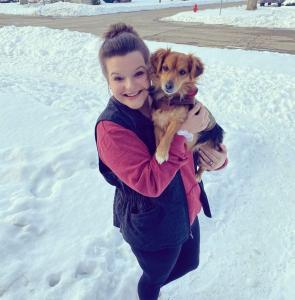 Sabrina came to the clinic in 2016 with experience as a kennel attendant and animal control officer for the Marshall County Humane Society, a facility that helps place as many animals as possible and which she still strongly supports. Sabrina's strong desire to help animals makes her a motivated team member that is always striving to learn more and better herself and her skills. Since starting at the clinic, she has worked very hard and is now an invaluable member of our surgery team.
Sabrina loves spending time with her pet family of 6, she has 3 cats and 3 dogs. They like to come to work with their mom and play with her other doggie friends, and her family.
Sarah

Veterinary Assistant
Sarah has been a member of the Parrett team since November of 2003. During this time, she has learned to do blood draws, catheter placements, companion animal laser therapy, radiographs, and is able to work in any department, including surgery.
Sarah's pet family includes 3 dogs (Rosa, Tommy and Porkchop), 3 ornery cats (Ralph, Roscoe and Monkey), Hippie an 18 yr old cat, a Bearded Dragon, Guinea pigs, and a Rabbit. If Rosa greets you at the reception desk, be sure to throw a tennis ball for her! On her free time, Sarah loves to spend time with her Daughter Bayle, Camping and spending time with family.
Jenny

Groomer
Jenny has been a part of Parrett Veterinary Clinic since 1994. She is engaging and enthusiastic about her work, and describes herself this way: "I am truly dedicated to the pets and want to do the best I can for them."
Jenny's pet family consists of four dogs (Max, the couch potato; Oreo, who's playful and needy, Owen, the mischievous one; and Minnie, who is so affectionate) and four cats (Tiger, who's curious and affectionate; Christmas (Little Chris) is loving and sweet; Abigail, the DIVA; and Tony, shy and nosey). Her free time is spent with her loved ones and pets, cooking, watching movies, and listening to music.
Margaret

Building Maintenance & Office Support
Margaret has been an integral part of the Parrett team since 2001. She makes certain the building is always in tip-top shape. Whether the staff needs supplies, an errand run, or a button replaced, Margaret is the go-to gal. Her co-workers especially enjoy her baking skills. In her spare time, she is continually giving her time to others. Whether it's volunteering with her sorority, Delta Theta Tau, or working with the hospital's Auxiliary, Margaret is always on the move.
Our Staff: In-House Patient Care
Courtney

Patient Care
My name is Courtney and I have been with Parretts for close to 3 years. I started in the Kennel Department and have worked my way up through cross-training and now assist with many different things.
I am a cat mom, but love all animals.
Kendra Mark

Patient Care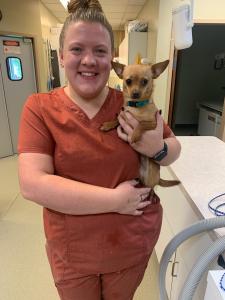 Kendra has been at Parrett's since February of 2020. She started as a kennel attendant but has been learning many more tasks around the clinic and now helps out in many different areas.
She is a dog mom of 5 and a cat mom of 7 along with 9 chickens and a horse. Animals are her passion!
Gage Urban

Patient Care
Gage started here on 6-7-21. He loves every part about it especially having like 20 sisters. He loves being able to work with all the animals. He is a dog dad of two and also has a chameleon and a Russian tortoise.
Ashley

Receptionist
Ashley has been working at the clinic for almost 6 years now. She started off in the kennel department, she has worked her way to being a receptionist. She checks in clients and answers phones. She comes to work everyday with a positive attitude and a smile on her face. You may get her over the phone or she may check you in while at the clinic. Ashley is a cat mom of 2 and they are her pride and joy.