Consummate Pet Care with Advanced Veterinary Laboratory & Diagnostic Services
The Parrett veterinary team offers an advanced level of diagnostic skill and technology as an important component of our pet care program. Determining the exact cause of an animal's illness or identifying an injury accurately is critical to implementing the proper treatment in a timely manner.
Veterinary Laboratory & Testing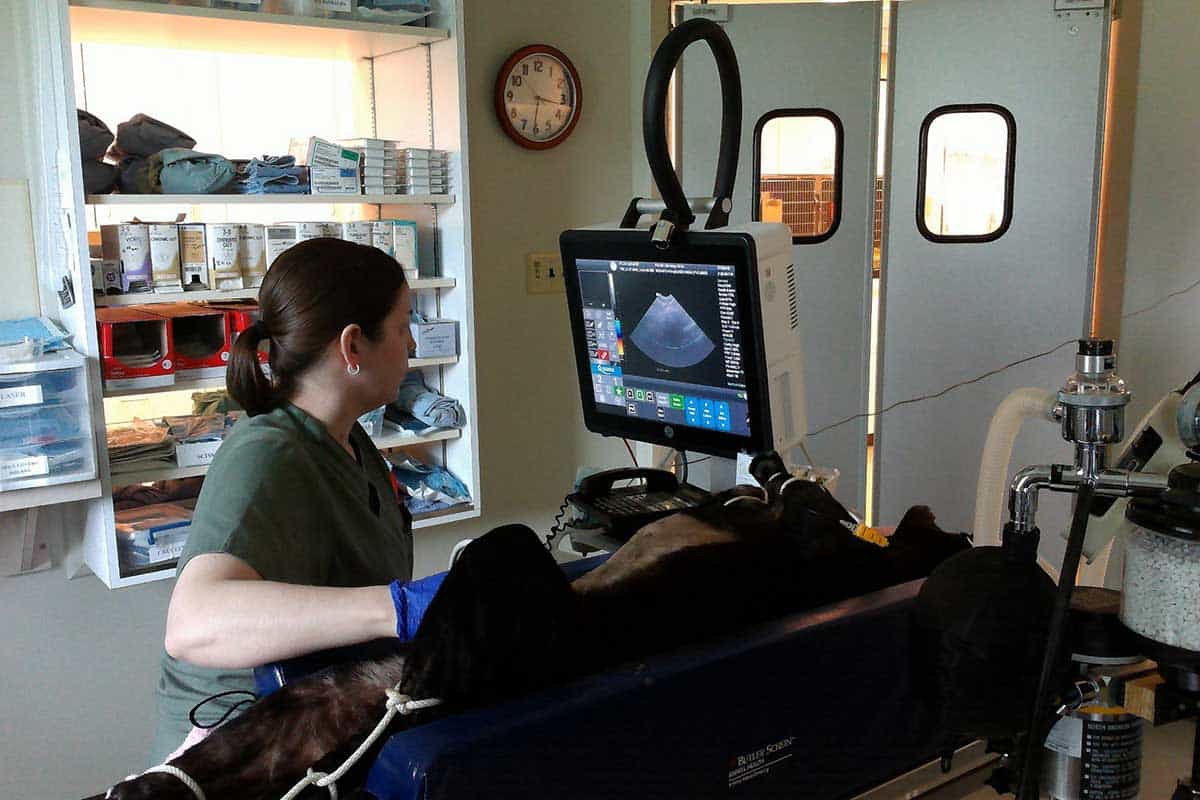 In veterinary health and wellness care, regular laboratory work is essential to establishing healthy baselines for comparison and to identify changes in your pet that indicate developing conditions, diseases, or concerns. Our in-house veterinary laboratory is immediately available to provide the most accurate results.
---
In a healthy animal, we run laboratory tests during the initial wellness exam. These tests may include the following:
CBC (complete blood count) — Measures the number of red blood cells, white blood cells, and platelets to help diagnose infections, anemia, and leukemia
Chemistry panel — Measures electrolytes, enzymes, and chemical elements to determine how the organs are functioning
Urinalysis — Detects the presence of substances such as protein, sugar, white blood cells, or blood to diagnose urinary tract infections, diabetes, dehydration, kidney problems, and more
Fecal exam — Detects the presence of intestinal parasites
Heartworm & Tick Disease Screening — Detects the presence of heartworms, a test required prior to using heartworm preventatives, in addition to testing for tick-borne lyme disease, anaplasmosis, and ehrlichiosis canis.
These screening tests may be recommended for healthy pets of all ages.
If your pet becomes ill, we compare new lab work with previous baseline values to determine the exact level of abnormality. We also use laboratory tests to confirm an illness or rule out specific diseases.
When your pet requires surgery or dental care, we run screening tests to determine risk of complications from anesthesia.
Patients at Parrett Veterinary Clinic enjoy the highest standard in diagnostics from Abaxis Laboratories. Abaxis is a pet health company dedicated to supporting veterinary professionals with state-of-the-art diagnostic technology.
---
Digital X-ray & Computed Radiography
Our veterinarians discovered the advantages of digital radiography and implemented this technology long before it was accepted in many human hospitals. Our use of computed radiography is a contemporary approach to x-ray imaging.
Computed radiography (CR) uses equipment similar to conventional x-rays. In place of film to create the image, however, CR uses an imaging plate. This imaging plate is run through a special laser scanner called a CR reader, digitizing the image. The digital image can then be viewed and enhanced for contrast, brightness, and zoom.
Whatever your pet care needs, from wellness care to surgical intervention, our diagnostic program offers safer veterinary procedures with enhanced accuracy.
---
Ultrasound and Endoscopy
Our clinic offers specialized equipment as well. Our new, state-of-the-art, veterinary-specific ultrasound machine is provided by Oncura Partners. This offers us the ability for instant feedback and telemedicine capabilities. Our veterinarians may order this diagnostic procedure to examine your pets internal organs on a non-invasive level. Parrett Veterinary Clinic currently provides three staff members that have completed the Oncura Partners Abdominal Ultrasound Training Program. We are in the process of training and certifying additional staff members.
Parrett Veterinary Clinic has recently added an endoscopy unit, yet another non-surgical approach for internal system evaluation. For example, this machine is perfect for evaluating the gastrointestinal tract for gastric foreign bodies. At times, we are able to extract gastric foreign bodies with the endoscope rather than surgical intervention.