Coupons and Promotions
SNSI Discount Spay / Neuter Voucher
Limited-income pet owners pay minimal fees for spay and neuter surgery after meeting eligibility requirements. Get the highest quality surgery for you beloved pet right here at Parret Vet with your SNSI voucher. To see if you qualify financially, visit the SNSI webpage here.
*If your pet is not already current on their Rabies and Distemper combo vaccines, those will need to be given at the time of the surgery for a minimal additional fee unless your voucher specifies otherwise.
Sentinel Spectrum: Best Protection & Best Pricing Only Available at Parrett Veterinary Clinic
It pays to protect your dog year round! When you purchase a 12 pack of your dog's Sentinel Spectrum, not only are you getting the guaranteed protection against heartworms, fleas, roundworms, hookworms, whipworms, and tapeworms that you won't get through online pharmacy purchases, but you also receive:
Tremendous instant discounts on your purchase
$25 mail-in rebate
Entered into our #EveryDogDeservesProtection monthly drawing for amazing prizes! Promotion ends 04/30/2019.
Is a 12 pack not in your budget? Sign up for monthly auto-ship! For NO EXTRA CHARGE we will automatically ship your pet's monthly parasite prevention a week before it is due to be given. When you sign up for 12 months of autoship at the time of your annual exam, your last two doses of Spectrum will be ABSOLUTELY FREE. Call the clinic to sign up for autoship any time!
Promotional Pricing: Revolution for Cats
Don't forget that cats deserve to be protected, too! Get guaranteed protection for your cat that online pharmacies can't provide against heartworms, fleas, roundworms, hookworms, and ear mites. When combined with our additional discounts on packages, there has never been a better time to buy!
Progressive price discounts on package purchase
Entered into our #EveryCatDeservesProtectionToo monthly drawing for amazing prizes! Promotion ends 04/30/2019.
For purchases made after 02/25/18, earn Zoetis Petcare Rewards which can be redeemed at any veterinary practice. Your 12 dose purchase earns you $35, a 9 pack purchase earns $25, 6 doses earns $15, and 3 doses purchases earn $5!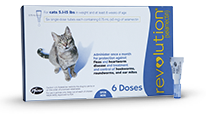 ​
Hills Science Diet Special Offers
The clinic now offers FREE Home Delivery for qualifying purchases. You can also visit their website for special offers and coupons!
Elanco Rebates
Atopica: Save $20-$80 for dogs and $15-$20 for cats
Adequan: Save $20
Percorten-V: Save $40
Comfortis: Save $25
Osurnia: Save $20
Galliprant: Save $10-$30
Access your rebates by clicking here.